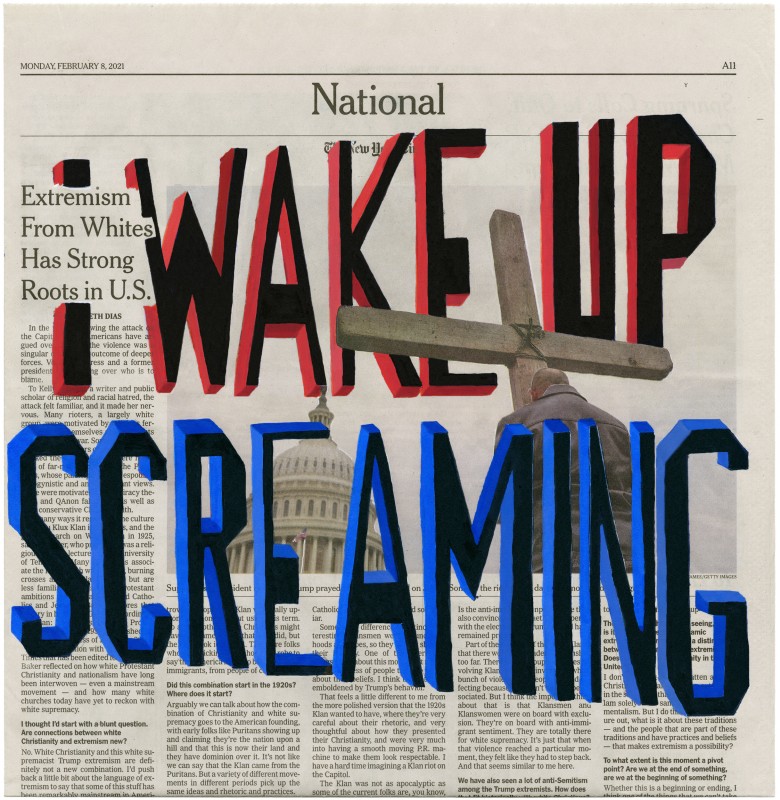 I long ago abandoned television news in favor of the satisfyingly tactile experience of reading the newspaper at my kitchen table, a ritual I have held to despite the cost and impracticality. Yet there were days during the previous year when I let those daily papers pile up in my gravel drive, days that included hard rainfall and the heavy tires of delivery trucks. Rescuing the flattened (and sometimes soggy) wads, I invariably felt pangs of guilt. Opening the newspaper became an experience I more often dreaded than savored, a predictable fall down a rabbit hole of tumultuous events, heroic struggles, and historic failures. And when I did read them, which I almost always did, I could not help but give voice to my interior battles. Eventually, I began to write my rage, my puzzlement, my frustration, and my shock directly into the hydra-headed headlines, stories, and photographs.
The results, some of which are shown here, operated as a personal diary of sorts. Looking back now, and viewing them collectively, they seem also to provide a kind of cumulative portrait of the time during which they were created, of our common hopes and our common nightmare—of a year that changed everything.

These works are presented in limited edition archival fine art prints produced and printed by photographer Alex Harris in collaboration with me. Each print is signed and numbered.

Currently on view
September 1 – November 6, 2021
PS 118 Gallery and Event Space